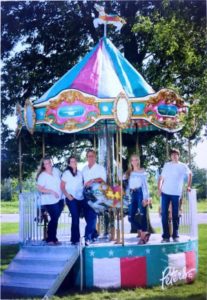 Sterling Fundways is family owned and operated by Bill and Lori Sterling. The company was established in 1987, starting with small carnival games to serve elementary school carnivals. Over the years, the company has grown into a complete carnival, serving over 150 events each year.
Bill and Lori were both raised in the outdoor amusement industry. Bill's family had games and Lori's had side shows. Bill's Father was a founding member of the Greater Ohio Showmen's Association (GOSA). Bill is a GOSA Trustee and a member of the Ohio Fair Managers Association (OFMA). Sterling Fundways is a past winner of the GOSA Outstanding Achievement in Games and Rides Awards.  Bill and Lori have 3 children, Ashley, Jacob, and Sarah.
We take great pride in the quality and safety of our operation. All of our mechanical rides and inflatable attractions come with a trained, uniformed employee to operate the equipment for your event. No event is too big or too small for Sterling Fundways.